BEIJING -- China's navy is set to hold a huge maritime ceremony to mark its 60th anniversary in April, and has invited ships and top officials from dozens of countries to attend, media reported Saturday.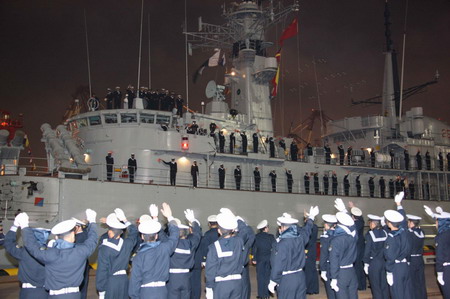 Chinese naval soldiers welcome the arrival of a Pakistani destroyer at the Qingdao port in east China's Shandong province, April 18, 2009. [Xinhua]
The four-day celebration -- set to begin Monday in and off the coast of the eastern city of Qingdao -- will involve 21 naval vessels from 14 countries, Xinhua news agency said.
Officials from 29 nations are also due to attend, including the US chief of naval operations, and the Russian navy commander-in-chief.
The ceremony, which will include a fleet parade and a sampan race, will mark the founding of the People's Liberation Army's navy on April 23, 1949, Xinhua said, months before the People's Republic of China was formally established in October.
The navy was formed when a unit of the Kuomintang's coastal defence fleet defected in the civil war after WWII, bringing with it nine warships and 17 other boats, Xinhua said.