China and the United States will resume military exchanges that were suspended last November.
Foreign Ministry spokesman Qin Gang said yesterday that President Hu Jintao and his US counterpart, Barack Obama, reached the agreement at their first meeting on Wednesday, one day before the G20 summit in London.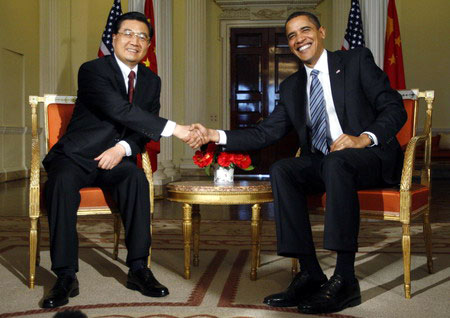 Chinese President Hu Jintao shakes hands with US President Barack Obama (R) at Winfield House, the US ambassador's residence in London April 1, 2009. [Agencies]
The White House said in a statement on Wednesday: "Both sides share a commitment to military-to-military relations and will work for their continued improvement and development."
A researcher lauded the move.
"In the long term, repairing and developing military ties between China and the United States are in the interests of both," Zhang Tuosheng, with the China Foundation for International and Strategic Studies, told China Daily.
The two countries held military defense policy talks in Beijing in February, in what analysts said was a prelude to a resumption of military exchanges.
ASEAN summits
Premier Wen Jiabao will propose a series of initiatives to strengthen cooperation with the Association of Southeast Asian Nations (ASEAN) in Pattaya, Thailand, this month, Qin said.
ASEAN, China, Japan and South Korea will hold several summits from April 10 to 12.
The financial sector will be Wen's focus, Qin said, adding that the summits will help Southeast and East Asian nations fight the financial crisis.
Facing common challenges with ASEAN, China is willing to work with the 10-member bloc to tackle the financial crisis, Qin said.
China and ASEAN plan to build the world's most populous free-trade area by 2010.
They have already implemented free-trade pacts on a wide range of goods and are working to liberalize investment and the service sector.
http://www.chinadaily.com.cn/china/g20/2009-04/03/content_7645466.htm