Asia's largest helicopter for civilian use get certification
It weights 13 tons with three powerful turboshaft engines.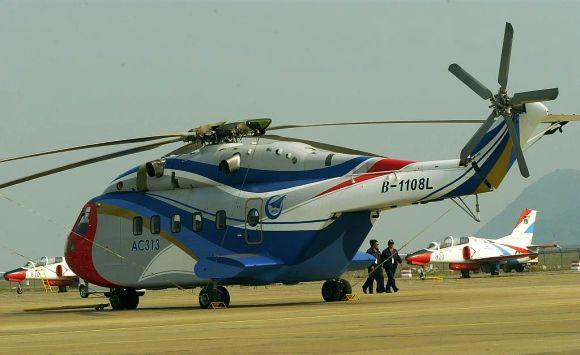 China's largest-ever helicopter for civilian use was certified on Thursday by the Civil Aviation Administration of China, the country's civil aviation authority. The move means that the 13-tonne AC313, Asia's largest helicopter, is officially approved to enter the market, according to the Aviation Industry Corporation of China (AVIC), which developed and manufactured the helicopter. The design of the aircraft focuses on efficiency and reliability, and meets international safety standards, the AVIC said. After four years of research, the AC313 is also the world's first civilian helicopter to receive an "A-category" airworthiness certificate at an altitude of 4,500 meters, the AVIC said.
The aircraft could be deployed for emergency rescue operations, forest fire prevention, transport, offshore operations, medical aid, sightseeing and business trips, the AVIC said.
About 25 percent of China's territory is located 3,000 meters or more above sea level, requiring emergency rescue authorities to use helicopters in more remote areas, said Yu Feng, board chairman and general manager of AVIC Changhe Aircraft Industries Group Co., Ltd.
"Natural disasters in the plateaus of west China require immediate rescue but restrict the construction of roads and airports, which demands the appearance of large civil helicopters," Yu told Xinhua, adding that the AC313 project was launched after 2008's fatal earthquake in southwest China's Sichuan province.
The AC313 completed two trial flights to the Qinghai-Tibet Plateau in 2010 and 2011, respectively, and set a record by soaring to an altitude of 8,500 meters, making it the first domestic aircraft to be able to fly in the highlands, the AVIC added.
The state-owned aircraft manufacturer produces civil helicopters weighing from one to 13 tonnes. Its one-tonne AC310 helicopter, the country's first ultra-light civil helicopter, made its debut at the first China Helicopter Exposition held last September, according to the AVIC.
The AC313 has navigational tools based around a comprehensive avionics system designed for use when telecommunications are absent in plateau areas, said Xu Zhaoliang, chief designer of the AC313.
The aircraft features fuel systems, fire-extinguishing technology and tail boom composite materials never before used in China's civil helicopter industry, Xu said.
Experts said China's civil helicopter industry has developed quickly but is still lagging behind in many technological areas, including the development of new engines, rotor systems and transmission systems.
Helicopters from France, Russia, the United States and Italy account for a large share of China's helicopter market. The France-based Eurocopter Group took 40 percent of China's civil helicopter market share after it exported more than 160 helicopters to China. The Anglo-Italian helicopter company AgustaWestland claimed 90 percent of China's police and public security market when it got an order for 30 helicopters this August.
Industry insiders said the sector will develop more rapidly as the government attaches more importance to the improvement of public services, as this will require more helicopters for public security, forest fire prevention and medical aid.